Tomb of (the) Ancients is a level from Tomb Raider - Angel of darkness.
About the level
[
]
Lara enters a cave with forgotten bridge and things that may lie hidden for a reason.
Picture by picture
[
]
12.01 - Man holding two dragons
It is a gothic artwork from the Castello Visconteo in Pavia. Found it here and here. It's original location was Capitello da San Giovanni in Borgo.
12.02 - Gargoyle. 
A bit tricky but I think the gargoyles in the room comes from the Notre Dame in Paris. I said tricky because there are zillion of gargoyle types on  Gothic churches in Paris and other countries. But since the story is in Paris, I focus on Paris.  
12.03 - Mosaic floor
The mosaic floor is in the Louvre, I found it on Wikimedia commons. I don't have any more information about it. So if you do.. please comment on this page.
12.04 - Demon head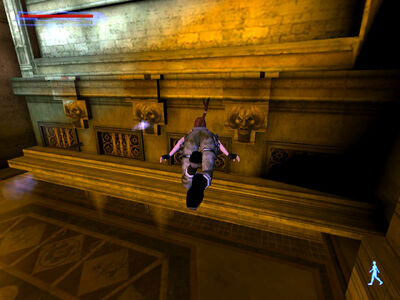 The demon head's that shoot spikes remind me somehow of Tomb Raider II. But I couldn't find the original.
12.05 - Monks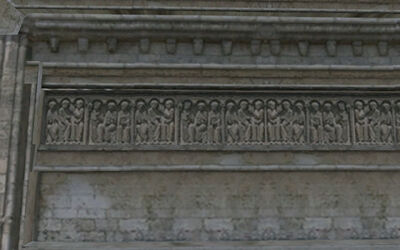 Couldn't find it.
12.06 - Medieval scenery

The medieval scenery came from the Territorial Abbey of Nonantola some 10 km from Modena.  It is a former Benedictine monastery. The abbey church remains as a basilica and is the co-cathedral of the diocese of Modena-Nonantola. 
Found the four images. These came from the main gate of the abbey and depict:
Adoration of the three wise men.
Mary, Joseph and Simeon
Transport of pope Adrian III
Samson and the lion.
12.07 - Roses
Couldn't find it.
Unused pictures
[
]
I discovered two images that are not in the final game.