The Willowtree herbalist is a sublevel of the Parsian Ghetto level. It is part of Tomb Raider - Angel of Darkness.
About this level
[
]
The level represents a Chinese herbalist shop. The man in the shop is called "China". There is a scale for weighting. There are piles of herbs and pots. Not to confused with a Pharmacy which can be seen all over in Paris.
Lara comes here to ask about the bodyguard and the password..
Picture by picture
[
]
07A.01 - Human body poster
Lara looks at some posters on the walls of the room. I found the picture. It's a map called: "Acupressure Chart - Points & Meridians by Michael Reed Gach" found at Amazon. 
Acupressure is one of the techniques used by the tradition Chinese Medicine.  
07A.02 - Red ear poster
This can found on www.relfe.com which shows us that it is a picture by Terry Oleson, 1996. It is a diagram of the meridian in the ear.
07A.03 - White ear poster
The first one (in white) can be found at this website from Francine Ball. I don't know if this is the original artist. It has something to do with Acupuncture.
07A.04 - Body picture
The picture shows us an anotomy model with muscles / vines and the skeleton of a human.
I found the image with Yandex on this site . It may not be the original image but it could be used for it.
07A.05 - Jars
The jars or pots behind the counter are marmalade jars. It's a James Keiller & Sons, Dundee Marmalade. 
It is believed to have been the first commercial brand of marmalade, originating in Dundee, Scotland. (From wikipedia)
07A.06 - Chinese texts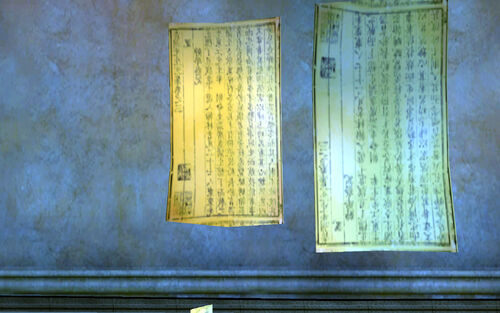 I can't read it. But if you have a clue just let me know.
07A.07 - Books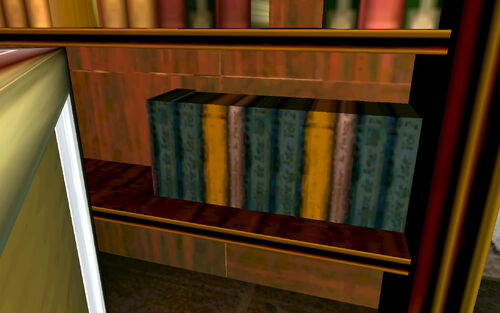 The books shows us the text: Encyclopedie de Arte, Vol 2. It can also be seen on the Margot Carvier's Apartment level. If you look good..
Trivia
[
]
Some facts, some of my findings.
Energy Herbs
[
]
Lara could buy energy herbs to gain more power. This was scrapped because of the powerup system. In the audio files are left over of the lines she would speak.
Shooting everything to pieces
[
]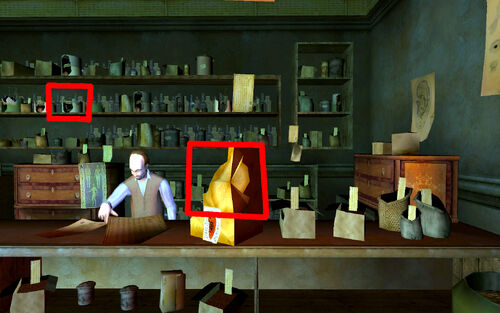 It is possible to shoot the counter. You can jump and shoot more to hit the pots behind the owner. Enjoy!