St. Aicard's Graveyard is a level from Tomb Raider - Angel of Darkness.
About this level
[
]
There are two routes to get into this level.
Francine route
Doorman route
Spolier alert!
[
]
The Francine route is as follow:
Talk to Janice
Talk to Pierre (Cafe Metro)
Go to the Serpent Rouge and pick up the mysterious box.
Go back to Pierre, get the number of Francine
Go to Francine..
The Doorman route is as follow:
Talk to Janice
Go to the Ex-Janitor
Go to the Serpent Rouge and pick up the mysterious box.
Talk to the Ex-Janitor, get the password "Plui Noire" (black rain)
Go to the Doorman and he lets you in.
I choose the Francine route.
Picture by picture
[
]
07C.01 - Pick up truck
It is just a little of paris2_2.gmx.clz. I found a truck near Francine place. I think it is a 1934 Ford Model A BB  1. I saw in the GMX file that its license plate is AAW 935A. Searched on the internet and came to this address.
07C.02 - Painting 1
It is called "Landscape with Orpheus" from an unknown maker. Made in Flanders around 1570. It is now in the Ghetty Museum, Los Angeles, USA. There is a myth based on Orpheus and Eurydise, read more about it here.
07C.03 - Painting 2
This one is called: "Pastoral Journey" from Giovanni Benedetto Castiglione (1609 - 1664) made in 1650. Italian Baroque painter.
As a young woman rides her horse through a flock of sheep, she turns to speak to a man walking by her side. The sheep bunch tightly together, guided by three young shepherds, and a man carrying a large pitcher stands beneath a palm tree in the . This scene probably shows the biblical figures of  and his wife  journeying to Egypt to escape the famine. Giovanni Benedetto Castiglione used oil paint to create this detailed drawing. With the tip of the brush, he varied the shape and curve of his strokes to create the woolly sheep coats, the fluttering leaves in the tree overhead, and the softly faded tones of the landscape in the background.
07C.04 - Art nouveau lamp
It is a Tiffany table lamp. Named after the creator: Louis Comfort Tiffany (1848-1933). Its style is Art Deco. I couldn't find the exact match..
07C.05 - Calender girl
Load this level and fly over to a small piece of level paris2_2 opposite of Parc du Lune is a poster "Live Girl". This poster can not be seen in the paris2_3.gmx.clz level but only can be seen from Saint Aicard Graveyard. It's weird.
First I thought it was the girl from the painting "Venus" by sandro botticelli  But her right arm has a different position. But I find it a true gem.. I think it is a calender girl..
07C.06 - Tomb stone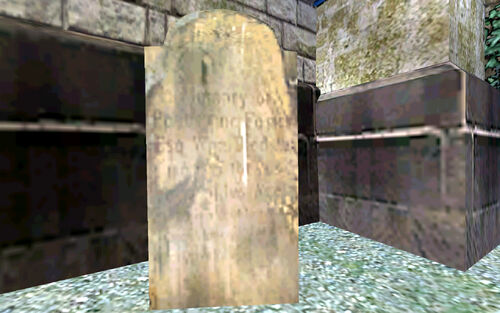 I can read the first three words: "In memory of...", but it is hard to read.
07C.07 - Celtic cross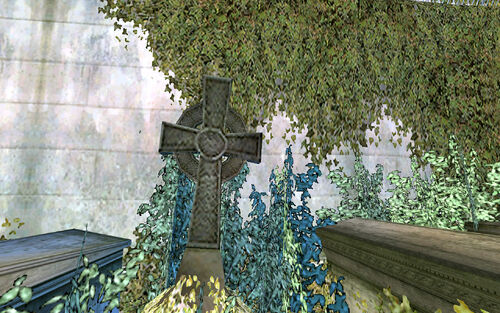 This cross type is a Celtic cross. I wonder what it's doing here in France. It is just a cross with a ring on it. You can find it in Ireland but also in England.  
07C.08 - Christ scene on a tomb lid
The tomb lid is a reused picture we saw in the St. Aicard Church. 
07C.09 - Demon face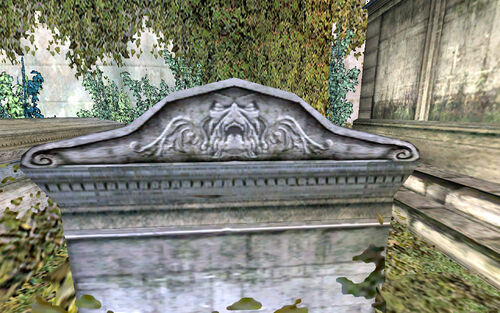 There is a demon face on a tomb lid. I think it is a green man. But I couldn't find the original.
Graveyard
[
]
The graveyard has references to Cimetière des Saints-Pères near Montmartre as pointed out by Aurimas on Tomb Raider Forums but It has also has references to Père-Lachaise cemetry..
07C.10 - French tomb monument nr 1
This is a combination of two tombs in Père-Lachaise:
07C.11 - French tomb monument nr 2
This is tomb of Rouge in the Père-Lachaise.
07C.12 - French tomb monument nr 3
Unknown tomb. Found on a tumblr account.
07C.13 - French tomb monument nr 4
This looks a bit like the tomb of Familie Pasquier.
07C.14 - French tomb monument nr 5
Unknown grave.
07C.15 - Angel with cross
There is an angel in the cemetery that looks exact like this.
Trivia
[
]
some facts some of my findings.
Unused pictures
[
]
There are not a lot of unused pictures. But what it remarkable is that this level set contain some different images from Parisian Ghetto and Madame Carviers Apartement.
There is also an unused picture in Francine's home.

The painter is Claude Lorrain and is called "THe Mill" but also: "Landscape with the scene of the wedding of Isaac and Rebekah".
Hidden names of the developers
[
]
Inside of a tomb with a blue door is an easter egg. More information on my Tomb Raider 6 Easter Eggs page.
Goofs
[
]
Lara can land or stand on places that are not supposed to be.
Just fly to the rooftops of the building and land. You go sideways and walk to village with the church.
Another one is that some walls between the building and the church have collision, you can walk on it, but first Lara dies but when you hit the "n" button (fly) and hit the CTRL key you can walk there.
The fence has also collision. If you can fly you can land there as well.
You can land on the vertical side of the cross or on the head of the angel. It is a bit tricky.
Shooting dishes at Francine's place
[
]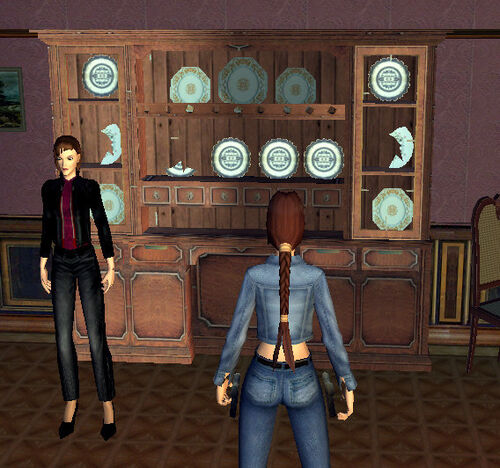 Lara is enjoying the hospitality of Francine's, Pierre's Ex.  Maybe a little too much.. Lara accidentally shooted some plates.. Francine is not happy with Lara.