After a FMV scene Lara has entered the caves level, the first one and many more has yet to come.
Note: I am not an expert on the Mesoamerican cultures. There will always be an error in my analysis. If you find something just let me know.
01.01 - Rockets.
The rockets reminds me of the poison arrows from Indiana Jones's "Raiders of the Lost Ark" in the Golden Idol scene. Indiana Jones walks to a golden idol, replace it for a bag of sand and runs away.. In his way out of the temple he runs faster than the arrows can hit him.
01.02 - Door.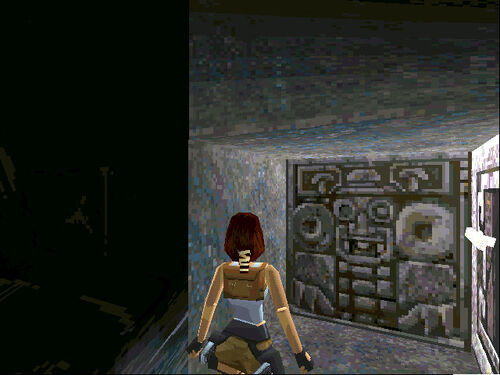 I think it represent a Mesoamerican god like Zotz, a bat like god. I couldn't find this picture on the internet.
01.03 - Creepy mummy.
I think the mummy is from Peru or Bolivia or a mix from the two. The second one is from Bolivia, the other one is from Cuzco, Peru.
01.04 - Maya king
I think it is a Maya king or royalty. It looks like some statue from Quiriguá. The face, earrings, hands look a like. But only the whig / hat / crown is different.
01.05 - Skulls.
It think it might be reference to the Tzompantli or Skull rack. After some research I came by Huey Tzompantli or Great Tzompantli in Tenochtitlan in Mexico. The skulls look a like a bit.
01.06 - Aztec Calendar
It is called the Aztec sun stone. After the Spanish conquest it was buried in the central square of Mexico City. It was rediscovered in 1790 and is one of the most famous objects of the Aztec empire. More information about the iconography can be found here.