Bouchard's hideout is a level from Tomb Raider - Angel of Darkness.
About this level
[
]
This level consist of two parts:
The sewers
Bouchard's hideout
The sewers lead to an abandoned metro station near Parc du Lune. And the other one leads to St. Aicard's church. Here you find Bouchard and talk to him.
Picture by picture
[
]
The levels consist mostly of art that is also used in other levels.
The sewers
[
]
08.01 - Stone decoration
There can be seen some Gothic decoration. Maybe from the Notre Dame in Paris..
08.02 - Iron Wrought doors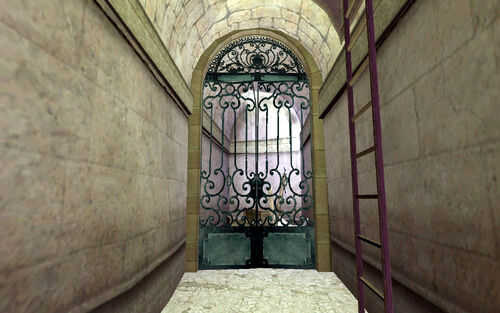 Couldn't find the original.
Bouchard's hideout
[
]
08.03 - Mobile welding dynamo
Also a find of Aurimas from TRF.
08.04 - Device next to Arnauld
The ECT device can also be found in the sanatorium. It is a device to use it for electroconvolusive therapy. Thanx to Aurimas from tomb raider forums.
More in dept information about this in that level..
08.05 - Arnauld's belt buckle.
I didn't know this but Arnauld has a belt buckle with an eagle on it. Remind me a bit of the jacked of Pierre DuPont in Tomb Raider Chronicles.
08.06 - Bittle Lob
"Bittle Lob" is an anagram of Little Bob. It is a band from France, from Le Havre. More about their albums here.
The device is a pallet truck.
If you look good on that pallet truck you see a little star. It can be found on their albums.
08.07 - Czech Passports
These are indeed Czech passports. These are:
Trivia
[
]
Some trivia...
Strange cube
[
]
Behind the room of Louis Bouchard there is a box, which has an unknown function. It can be see in other levels as well. The box is altered so it can be seen.
Passports
[
]
The Czech Passports can be found behind a wall. But you can't grab them.
Mr. Bouchard sitting just there..
[
]
Today I red the documentation that Kiko has made on TRF in the topic Beta and so much more - diary, on this level. I red that in the concept level Bouchard had two bodyguards or baddies and that Lara was caught up by one of the bodyguards. Some of the sound files refer to the bodyguards. These are removed because in this level Bouchard has no bodyguards.
The only thing I am missing in this scene is a television. Bouchard watching tv because I see no books and the amount of junkfood (boxes) must be one thing that entertains him.