Archaeological dig is a level of Tomb Raider Angel of Darkness.
About this level
[
]
Lara get here thanks to the pass of Margot Carvier. She knows some of the information of the puzzle because it is written in the notebook of Werner von Croy and some of the information can be obtained throughout the level. She must get the puzzle that lead to the Tomb of the Ancients.
Picture by picture
[
]
11.01 - Warning signs
Two warning signs in the big generator room.
"No entry to unauthorised personnel" and
"No smoking or naked flames"
11.02 - Generator
Because the level is quite dark there are a lot of generators. These generators provide power to the lights. The branch is Generac Power Systems and the model is G1000. 
11.03 - Desktop computer
At the working place of the archaeological dig team there is a pc. If you look close to the pc you see a version of Outlook. It is Outlook 2000 - a long time ago - but suitable for that time in 2001-2003.
11.04 - Floor plan
Map making of the object you want to dig is a neat plan. It has been used in archaeology and in other branches. It certainly doesn't look like the puzzle Lara must solve. Could it be the Louvre?
11.05 - Dig machine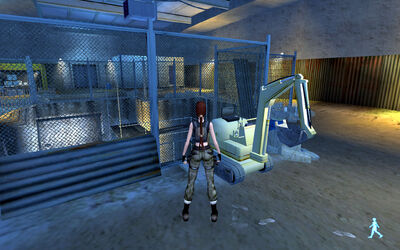 Lara is standing for a dig machine. The original cannot be found.
11.06 - Puzzle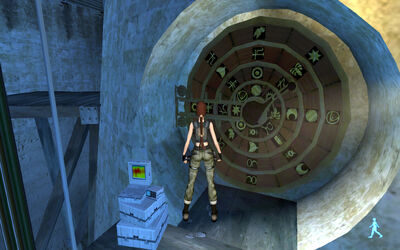 Lara is standing for the puzzle. No spoiler alert for those who want to play the game. It has everything to do with the symbols on the puzzle. Most of them look like Alchemical symbols and some don't.
Metal: Silver, Planet: Moon. 
Star ?
Metal: Tin, Planet: Jupiter
Metal: Gold, Planet: Sun
Scorpion tail?
Platinum or Taurus (congelation)
 ?
Metal: Lead, Planet: Saturn. 
 ?
Rose?
Upside down Mercury
Sun
Cup? 
Crown / Prince / Regulus
Antimony
Marchasite
11.07 - More warning sings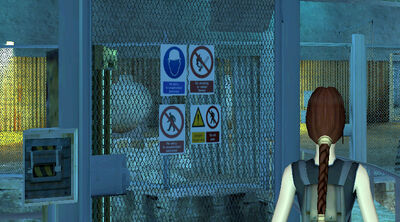 More signs:
"No entry to unauthorised personell",
"Danger hazard area" and
"Do not enter"
Trivia
[
]
11.08 - Standing on the x-ray machine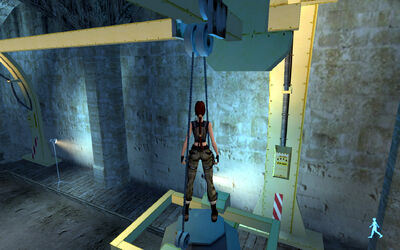 Lara is the one and only daredevil. She can stand on the x-ray machine without a problem.
11.09 - Unused pictures
The pictures:
The first one looks like a dangerous device / machine. The warning sign can also be found on the Rennes' Pawnshop level in the outside area.
The books from the Derelict Apartment Block level. Don't know what it does here.
The dart board from The Strahov Fortress level.